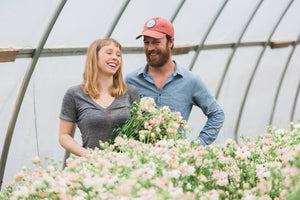 Welcome to SMFF's Online Shop for Florists!
Interested in becoming a wholesale customer?
Sustainable Shipping Guarantee
In order to reduce our carbon footprint we have decreased the amount of plastic we use in our shipping program. We utilize paper tape to seal our boxes, Kraft paper to wrap our bundles, as well as sustainable fresh wraps to keep flowers hydrated. These fresh wraps can also be reused for foam-free design. You may get a box that has a different logo or contains bubble wrap or other non-paper packaging as we try our best to reuse materials that we receive to reduce our consumption. We encourage you to repurpose your packing materials as you transport your beautiful arrangements. Save and send back your ice packs and we'll credit your next invoice!